It's easy to begin testing patients for COVID-19 using Sofia SARS Antigen FIA on Sofia 2…
"Together Again is an important step toward the long-awaited reunion of residents with their loved ones."
About the Program
We are pleased to announce Quidel's Together Again program in coordination with U.S. Department of Health and Human Services (HHS). Quidel along with The Centers for Medicare and Medicaid Services will provide point-of-care instruments and COVID-19 rapid tests allowing our nursing home communities the ability to quickly and easily test residents and staff. Together Again is an important step toward the long-awaited reunion of residents with their loved ones.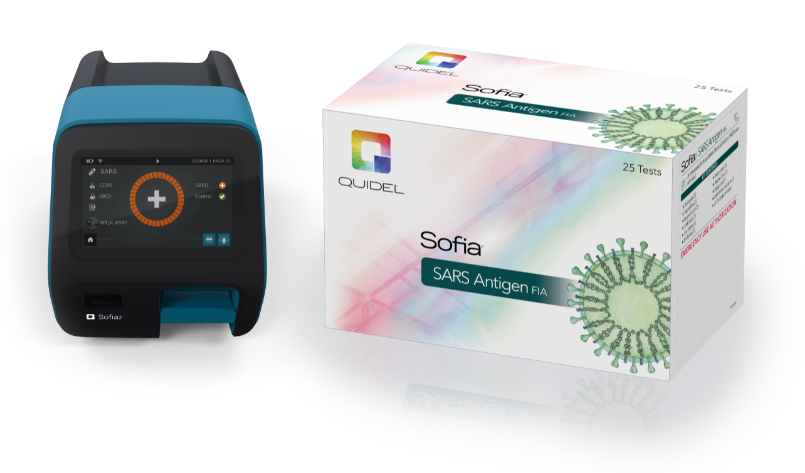 Quidel Sofia® 2 analyzers and Sofia SARS Antigen FIA testing kits, with results in as little as 15 minutes, will be provided together. All test results will be captured and deidentified data will transmit to the Centers of Disease Control easily through the Quidel cloud-based Virena® surveillance system tied to the Sofia 2 analyzers.
We share in the concern for our long-term care residents' health and safety and look forward to supporting you in caring for their needs through this initiative. If you are obtaining a unit from the HHS initiative, you will be receiving additional information from Quidel in the near future. We would like to thank all of you for your dedicated service and understanding as we work to bring families back Together Again.
About Quidel
Quidel Corporation (Nasdaq: QDEL) serves to enhance the health and well-being of people around the globe through the development of diagnostic solutions that can lead to improved patient outcomes and provide economic benefits to the healthcare system.
Getting Started
Visit our Getting Started guide to setup, run Quality Control and begin testing patients for COVID-19
View Sofia 2 Getting Started Guide
After you've completed the Getting Started Guide, register to attend Virtual Trainings
Attend Virtual Trainings
The Dymo printer and accessories for use with the Sofia 2 can be purchased from an office supply retailer or via Amazon
Dymo printer
Contact us to get Support
Get Support
Fact Sheets
How to Order More Tests
To reorder Sofia SARS Antigen FIA tests, catalog #20374, please contact your Prime Vendors listed below
Also available on the Sofia 2 platform, are the following tests and corresponding catalog #s:
| Test Kit Name | Quidel | McKesson | Medline | # Tests / Kit |
| --- | --- | --- | --- | --- |
| Sofia SARS Antigen FIA | 20374 | 1166253 / 66252410 | QDL20374 | 25 |
| Sofia Influenza A+B FIA | 20218 | 853965 / 22182401 | QDL20218 | 25 |
| Sofia RSV FIA | 20260 | 853972 / 22602400 | QDL20260 | 25 |
| Sofia Strep A+ FIA | 20274 | 951139 / 22742401 | QDL20274 | 25 |
| Sofia 2 Lyme FIA | 20319 | 1137602 / N/A | QDL20319 | 15 |
CLICK HERE to learn more about all our Sofia 2 testing options. Your Prime Vendor will assist you with ordering any of the additional tests.
Attend Virtual Training
Virtual Training walks you step by step through setup, quality control and running patient tests. Also includes live Q&A.
All training dates occur at 12:00 PM EST